Earth Day 2022: Water Quality and its Critical Impact on the Maine Economy
As we acknowledge and celebrate the 52nd Earth Day, Maine has much to be proud of and much work to do. Recognizing we are living on unceded lands of the Wabanaki people, we can continue to learn from their wisdom and adopt their approaches to environmental stewardship. In this spirit, we can also channel our inner Ed Muskie.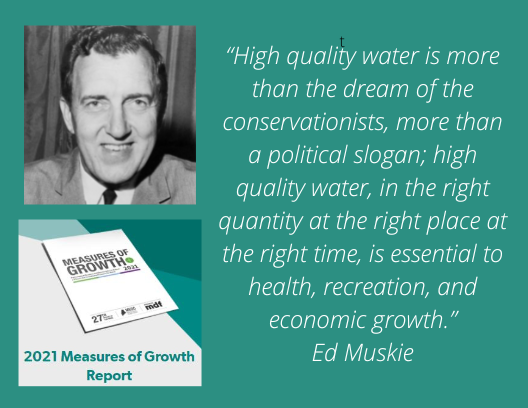 On April 22, 1970, Muskie was serving U.S. Senator from Maine. Assigned early on to the Public Works Committee – considered inconsequential at the time – Muskie seized the opportunity to tackle environmental causes and turned the Committee into a voice for clean air and water in the U.S.
His dogged efforts had already earned him the nickname "Mr. Clean" and resulted in fundamental environmental legislation, including the Clean Air Act, passed later in 1970, and which Muskie considered his greatest achievement.
The cause of clean water struck equally close to home. Having grown up in Rumford on the Androscoggin River – considered one of if not the most polluted river in the U.S. during the late 1960s – Muskie dedicated himself to legislation that would regulate and enforce cleanup of the nation's waters. This became the 1972 Clean Water Act.
Upon its enactment, Muskie said, "High quality water is more than the dream of the conservationists, more than a political slogan; high quality water, in the right quantity at the right place at the right time, is essential to health, recreation, and economic growth."
MDF invites you to explore the Measures of Growth database and in particular this month's "Indicator in Focus", Water Quality. We hope it can be a tool to learn more about environmental aspects of the Maine economy, and ways we can engage in critical efforts to address the climate crisis.
The Maine Economic Growth Council, which develops the annual Measures of Growth reports, assigned a Gold Star to Water Quality in 2021, recognizing Maine's "very high national standing and/or established trend toward significant improvement". This was based on data from the Maine Department of Environmental Protection and the U.S. Environmental Protection Agency that found Maine's water quality has remained steady since 2006, with 95% of rivers and streams and 91% of lakes achieving Category 1 or 2 in 2016. Nationally, about 47% of U.S. rivers and streams and 29% of the lakes were rated "good".
We hope you'll explore our other Measures of Growth Environmental indicators, too: Air Quality, Greenhouse Gas Emissions and Sustainable Forest Lands