Leadership Bicentennial Blog: Bob Montgomery-Rice, President & CEO, Bangor Savings Bank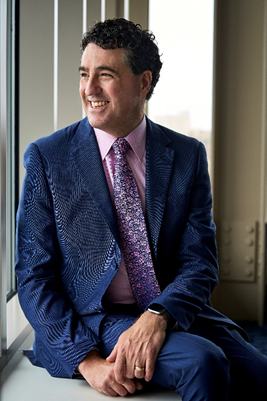 In celebration of Maine's Bicentennial and 200 years of leadership that paved the way to make Maine "the way life should be," members from MDF's Leadership Maine Baskahegan Class interviewed leaders from around the state. With diverse backgrounds, industries and geographies, they each share deep interest and commitment to the state of Maine and its people. This is the story of Bob Montgomery-Rice, President & CEO, Bangor Savings Bank, and his leadership journey. Bob was interviewed by Theresa Cody.
How he got here from there.
Bob Montgomery-Rice started his career path with participation in a management trainee program in the retail world and learned quickly that changing paths and acquiring diverse skills would lead to success. He ran several retail stores where he implemented process improvements and fine-tuned his management skills. He was recruited into the banking industry on a bag phone while driving down Interstate 495 in Massachusetts. The bankers were looking for individuals who had "real" retail skills and Bob accepted a role in Human Resources. He believes that leaders today are most successful when their careers have given them diverse experiences in roles and industries. The following years took him from one bank to another until a relationship he had formed along the way brought him to Maine and Bangor Savings Bank.
Bob lives primarily in Hampden, Maine but splits his time there and in Cumberland Foreside, Maine in order to meet the demands required with being the CEO of a Bank with presence statewide and beyond. When challenged by others about not being born and raised in Maine, Bob has two responses: "I married a Maine girl and we CHOoSE to be here!" It's quite clear from his expression and his body language, he is proud of both.
His advice for young leaders in Maine and outlook for the future.
"Volunteer for the project. Put yourself out there and don't wait for it to come to you. It's in the extra effort that you will gain both exposure and experience," says Bob. He was part of several banks in the early part of his banking career that were acquired by others. He always offered to be on the project team and credits his skills and depth of experience with participating on those teams. He learned how to work with others, what was important, and gained valuable experience that he has recently put to use from the successes and failures. It's during those days that he fell in love with Community Banking. Many of those foundational lessons are what guide him today.
For Bob, the defining characteristics of leadership include being humble, empowering others and having a true curiosity and willingness to listen to all levels throughout a group or organization.
Bob was a member of MDF's Leadership Maine Rho Class. He feels the biggest impact was his ability to develop awareness, appreciation and understanding through the program for all of the amazing grass roots efforts that are taking place around the state of Maine. He also recognizes and appreciates the opportunity to have met and maintained relationships with great people in the program.
He feels it is critical to the success of Maine that leaders of all types; Civic, Government, Business and beyond have a positive and forward looking vision for Maine. We are in a far better place than we were in the not too distant past. His challenge to others around the state; Why not here? We deserve success, we can achieve it and we certainly have the talent.
His inspiration from the past.
As a historian, Bob is most excited to look out into the Penobscot River in Bangor at the ships of the past that will be featured there as well as other locations around the state as part of Maine's bicentennial celebration.
He is most inspired by Elijah Hamlin and the other founders of Bangor Savings Bank because of their drive to change the plight of the working person in Bangor. River workers had no way to save their money and improve their living conditions. The basic premise of founding the Bank was a wish to give people the opportunity to change the course of their lives for the better. It's still fundamental in the message of Bangor Savings as a community bank and will always be.