Leadership Bicentennial Blog: Jen Fullmer, U.S. Air Force Colonel, Ret. & Board Chair, Boots2Roots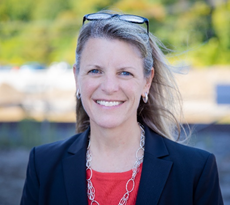 In celebration of Maine's Bicentennial and 200 years of leadership that paved the way to make Maine "the way life should be," members from MDF's Leadership Maine Baskahegan Class interviewed leaders from around the state. With diverse backgrounds, industries and geographies, they each share deep interest and commitment to the state of Maine and its people. This is the story of Jen Fullmer, U.S. Air Force Colonel, Ret., and her leadership journey. Jen was interviewed by John Manganello.
How she got here from there.
Jen Fullmer began her career as a Reserve Officer Training Corps (ROTC) cadet at the University of Northern Colorado with the goal of becoming an Air Force pilot. She spent her first three years in the Air Force as a human resources officer, attended pilot training, and held many roles on her path from B-1 Bomber pilot, to commander and Air Force senior leader. Jen explains that as a military pilot, flying is only part of the job. The majority of time is spent working in the traditional roles that keep any organization running like human resources, finance, logistics, training, operations, etc. Over the course of her 24-year Air Force career, she moved 14 times and had the opportunity to lead and follow at many levels and in diverse capacities. She says that her time training as a pilot instilled in her the value of accepting and providing constructive feedback and the importance of continuing to learn, improve, and adapt as situations evolve. Her transition from the Air Force to Maine provided another opportunity to apply these lessons as she took on a whole new challenge of building and running a nonprofit organization from concept to sustainability.
Jen officially retired as a Colonel in 2015 and is now dedicated to serving Maine. She and her husband are not originally from Maine but chose to be here and are proud to call Biddeford, Maine HOME. For the past four years Jen has been building and leading a Maine nonprofit called Boots2Roots. Boots2Roots is preparing transitioning active duty military members and their families to hit the ground running in Maine, while providing a pipeline of quality talent for Maine's workforce. Jen was always taught to grow your replacement and leave an organization better than you found it. That is her personal commitment and charge to Maine's up-and-coming leaders.
Her advice for young leaders in Maine and outlook for the future.
Find a mentor. The perfect mentor will care about your development, provide advice, and be a sounding board, your biggest cheerleader, and provide candid feedback when it's hard to hear. It was her mentors along the way that helped shape Jen's leadership style and taught her that it's all about the people. Take care of the people and they will take care of the mission.
The characteristics that define great leaders that Jen has worked for or with include a focus on people, trust, and humility. At the core of empowerment is trust and great leaders know it's not about them. When things go well, they give the team credit for success and when things don't go well, they accept full responsibility. People who work for great leaders don't want to let them down.
Maine is a wonderful place to live, work, put down roots, and take a leadership role. Maine needs strong leadership to meet current and future challenges like those addressed in Maine's Economic Development Strategy 2020-2029. Leadership is easy when you have plenty of people and resources. Leadership is tested when faced with competing priorities and resource constraints. Maine needs effective and inspiring leadership at all levels from the statehouse to the small business owner. We need leaders who are not afraid to roll up their sleeves and collaborate to find the best solutions for Maine's future.
Inspiration from the past.
As we approach Maine's Bicentennial, Jen is looking forward to the Sailing Ships Festival. In addition to a personal fascination with Maine's Windjammer fleet, she is inspired by the fact that shipping and ship building have been part of Maine's fabric for over 200 years and remains a major economic driver today.
She is most inspired by General Joshua Chamberlain and his dedication to Maine, selfless service, and faith. As a young man from Brewer, he worked in the timber industry, then taught at Bowdoin College, served honorably during the Civil War, as Maine's governor, as Bowdoin's President, and had a key role in planting the roots of the University of Maine. Jen says that his Maine upbringing and principled service, leadership, and contributions during the Civil War prepared him well to return home, lead, and make lasting contributions to Maine's future. She is reminded of this every day working with Boots2Roots.