Catalyze. Strengthen. Guide.
MDF Commitment to Racial Equity.

The MDF Team is saddened and horrified by the killing of George Floyd by Minneapolis police officers. The nationwide outrage over this brutal act has prompted a searing national confrontation with the continued legacy and realities of racism against Black Americans. It is a stark call for us all to confront how racism impacts our lives, our communities, and our work – and what we will do about it. Read our full Commitment on Racial Equity Message.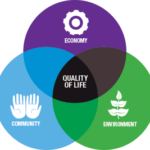 MDF is a non-partisan, statewide driver of sustainable economic growth in Maine. We connect people, decision-makers, and communities through trusted research, leadership development, and creative partnerships to stimulate new ideas, solve problems, and improve the lives of all Mainers.
We are stronger together! MDF is here you during the COVID-19 pandemic.
MDF is here as a partner and connector during the COVID-19 crisis for members, leaders, legislators, communities, businesses, and organizations. We regularly update our website/social media channels to highlight resources and ways Mainers are supporting Mainers. And as we have for 42 years, we will continue to be here for you as a steadfast, non-partisan support for leaders and communities on the road to economic recovery once the health emergency has subsided. Read our full message on COVID-19.
Leadership Bicentennial Blog: Celebrating 200 Years of Leadership that Continues to Shape Maine
In celebration of Maine's Bicentennial and 200 years of leadership that continues to help shape our state, members of Leadership Maine's Baskahegan Class Team Gold interviewed leaders from around the state. Read about their journeys – including who in Maine's history has been an inspiration for them!.
Read about the leadership journey of Claude Rwaganje, Executive Director of ProsperityME.
See and hear why the Adult Ed System was MDF's 2019 Champion of Education & Workforce Development award winner.
Attend an MDF event
Maine Downtown Center members are invited to join us and Kathy La Plante from the National Main Street Center for a ZOOM session to discuss their fundraising and finance plans and policies.
Come connect, network and laugh with your ICL & LM classmates and other alums. Friends and family welcome!
SEE ALL MDF EVENTS »
Read news about MDF
Click here for the Leadership Alumni Connector July 2020 Newsletter.
MDF is thrilled to offer the Leadership Alumni Project of Passion Resource Guide. The Guide offers a central, curated source…
SEE ALL MDF NEWS »
"MDF is a special creature of state law, enabled to integrate private sector thinking and experience with state government planning and data. There is no other entity like it."

Kay Rand, Former Chief of Staff, Governor Angus King