Catalyze. Strengthen. Guide.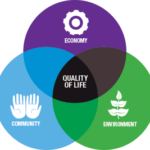 MDF is a non-partisan, statewide driver of sustainable economic growth in Maine. We connect people, decision-makers, and communities through trusted research, leadership development, and creative partnerships to stimulate new ideas, solve problems, and improve the lives of all Mainers.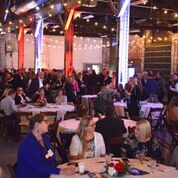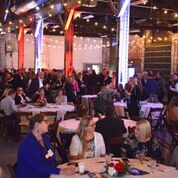 Strength in Community: MDF's 44th Annual Meeting & Champion Awards Celebration. Come celebrate the leaders, businesses, and communities whose efforts are benefitting entire commnuities and inspiring equitable and inclusive economic resilience.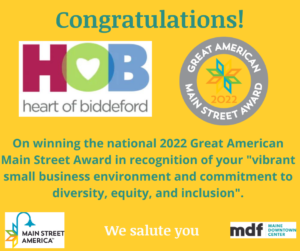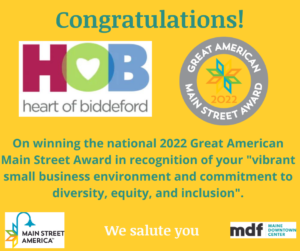 Heart of Biddeford Earns National 2022 Great American Main Street Award
Congratulations to Heart of Biddeford on winning the 2022 Great American Main Street America award! Watch this short video and learn why the organization and the Biddeford community so richly derserve this!
Attend an MDF event
Join us for a celebration of leaders, businesses, and communities who's efforts have benefited entire commnuities, inspired economic resilience, and furthered progress toward equity and inclusion.
SEE ALL MDF EVENTS »
Read news about MDF
CHICAGO, IL (May 16, 2022) – Main Street America announced today that Heart of Biddeford in Biddeford, Maine has received…
MDF's Maine Downtown Center and several other partner organizations across the state helped organize 20 volunteer-led walking community conversations as…
SEE ALL MDF NEWS »
"MDF is a special creature of state law, enabled to integrate private sector thinking and experience with state government planning and data. There is no other entity like it."

Kay Rand, Former Chief of Staff, Governor Angus King