Catalyze. Strengthen. Guide.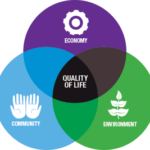 MDF is a non-partisan, statewide driver of sustainable economic growth in Maine. We connect people, decision-makers, and communities through trusted research, leadership development, and creative partnerships to stimulate new ideas, solve problems, and improve the lives of all Mainers.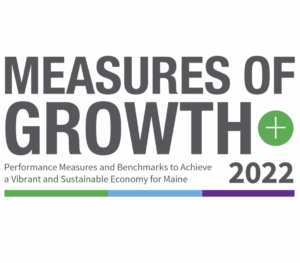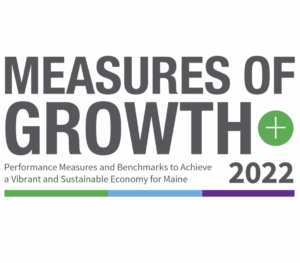 2022 Measures of Growth Report
This year's data and analysis signals Maine's quality of life and enduring assets position us well to achieve more equitable, sustainable economic growth even as we grapple with inflation, workforce shortages, and lingering impacts of the pandemic.
Dig into the data by visiting the Measures of Growth section


Give to our 2022 Annual Appeal
Your contributions keep MDF and our programs independent and impactful.
Dr. Gabriela Alcalde, Exec. Dir., Elmina Sewall Fdtn., speaks to why community is at the center of her values and all she does in her career during her Keynote Remarks to MDF's Sept. 23, 2022 Annual Meeting and Champion Awards Celebration.
Attend an MDF event
Come celebrate the achievements of our downtown communities in 2022. Join us at Curtis Memorial Library in Brunswick from 2:00-4:00PM. Awards will be given for the Downtown Hero, Project, and Innovation of the year. This year's event will feature guest speakers, Sarah Hansen (Executive Director, Greater Portland Landmarks) and Cary Tyson (Executive Director, Portland Downtown), as well as an optional tour post-ceremony of the Lemont Block.
Open to all Leadership Maine & ICL Alumni! Join us for a day of reuniting, re-energizing, and renewing leadership skills to help us all continue to meet the moment. We will reconnect through Outward-Bound style activities and facilitated conversations & workshops aimed at processing all we have been through during the last few turbulent years, re-energizing those ICL & Leadership Maine skills, and honing new ones. By the close of day, we hope you feel well equipped to lead in this brave new world. More info and registration details coming soon.
SEE ALL MDF EVENTS »
Read news about MDF
Hallowell, Maine – November 16, 2022 – The nonpartisan Maine Economic Growth Council today released its 28h annual Measures of…
HALLOWELL, Maine — September 19, 2022 — MDF's Maine Downtown Center (MDC) is pleased to select the towns of Hallowell and…
SEE ALL MDF NEWS »
"MDF is a special creature of state law, enabled to integrate private sector thinking and experience with state government planning and data. There is no other entity like it."

Kay Rand, Former Chief of Staff, Governor Angus King