Measures of Growth Report
Since 1994, MDF's annual Measures of Growth has tracked 25+ indicators that provide a comprehensive snapshot of how Maine's economy is faring. The Report is produced in conjunction with the Maine Economic Growth Council (MEGC) and therefore provides unique, non-partisan and independent data that is a trusted, critical tool in policy, business, community and individual decision making. It is designed to provide a way to understand the connections between and among the major issues affecting the economy and well-being of Maine people.
Each year, the indicators included collectively support the idea that Maine's quality of life depends upon a vibrant and sustainable economy, thriving communities, and a healthy environment. Past performance and current conditions inform the establishment of future benchmarks for each indicator that are aspirational, potentially attainable and against which we can measure our collective progress. The Growth Council takes great pains to also provide insight into the disparities, at times significant, which exist within our state.
Featured Publication
2020 Measures of Growth Report
In total, the 2020 Measures of Growth Report tracks 29 indicators that provide an important lens into an incredible time in Maine and global history. Even as COVID-19 draws our focus to the day-to-day survival of businesses and households, the Council firmly believes that a long-term perspective is as crucial as ever. Thinking past the current moment—with guidance from past experience—can be a springboard for future growth.
DOWNLOAD THE REPORT DOWNLOAD THE EXECUTIVE SUMMARY
The 29 indicators in this report track whether Maine is moving towards sustainable long-term prosperity. Within these indicators, we see reasons both for celebration and renewed resolve.
For 2020, the Council assigns Gold Stars for significant progress in:
Prekindergarten Education
Safety
Air Quality
We assign Red Flags for needed attention to:
Workforce
Value-Added per Worker
Research and Development Expenditures
Cost of Doing Business
8th Grade Math Performance
Racial/Ethnic Income Equity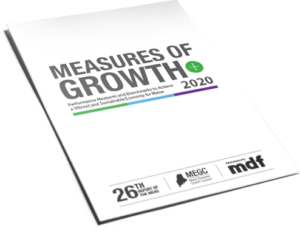 In order to better reflect current circumstances, Measures of Growth 2020 has two new measures:
Racial/Ethnic Income Equity
Prekindergarten Education
We have also changed two metrics: Per Capita Personal Income is now Wages, and Working Age Population is now Workforce. In other places we added commentary or cross-references to help tie Measures of Growth to the Ten-Year Economic Strategy.
Racial/Ethnic Income Equity
Incomes of Mainers of races other than white are 39% lower than white Mainers.
Compared to the national average, in Maine:
Value-Added per Worker
Worker productivity is 25% lower.
R&D Expenditures
R&D spending is 70% lower.
Prekindergarten Education
Public pre-K enrollment is 35% higher.
Cost of Doing Business
The cost of doing business is 10% higher.
Safety
The crime rate is 43% lower.
From 2018 to 2019:
Workforce Maine's workforce shrank by 0.4%
(2,900 fewer people).
8th Grade MathThe percentage of 8th graders proficient in
math fell 6% from 2017 to 2019
Air QualityHealthy air quality days rose 2% to 341, the
highest on record.
---
Most of this year's measures of growth indicators show data through 2019, and the majority of our benchmarks are for 2020. The Council considered resetting benchmarks to 2030 this year. We decided to wait so that the impacts of the pandemic on baseline conditions would be clearer.
2020 has highlighted the importance of economic stability to Maine households, and the corresponding importance of public health to Maine businesses. This includes integration of clinical services with community supports if we are to address what is known as the social determinants of health (SDOH) — factors like housing, education, behavioral health, food and nutrition, and personal safety. According to the National Academies of Sciences, Engineering, and Medicine, these SDOH account for 80% of a population's overall health.