Policy Leaders Academy
Experiential training for Maine's legislators
Policy Leaders Academy is a non-partisan educational program of the Maine Development Foundation for Maine Legislators on the Maine economy. This program has delivered high quality, objective and non-partisan experiential training to legislators since 1985. The program is open and free for all Maine Legislators.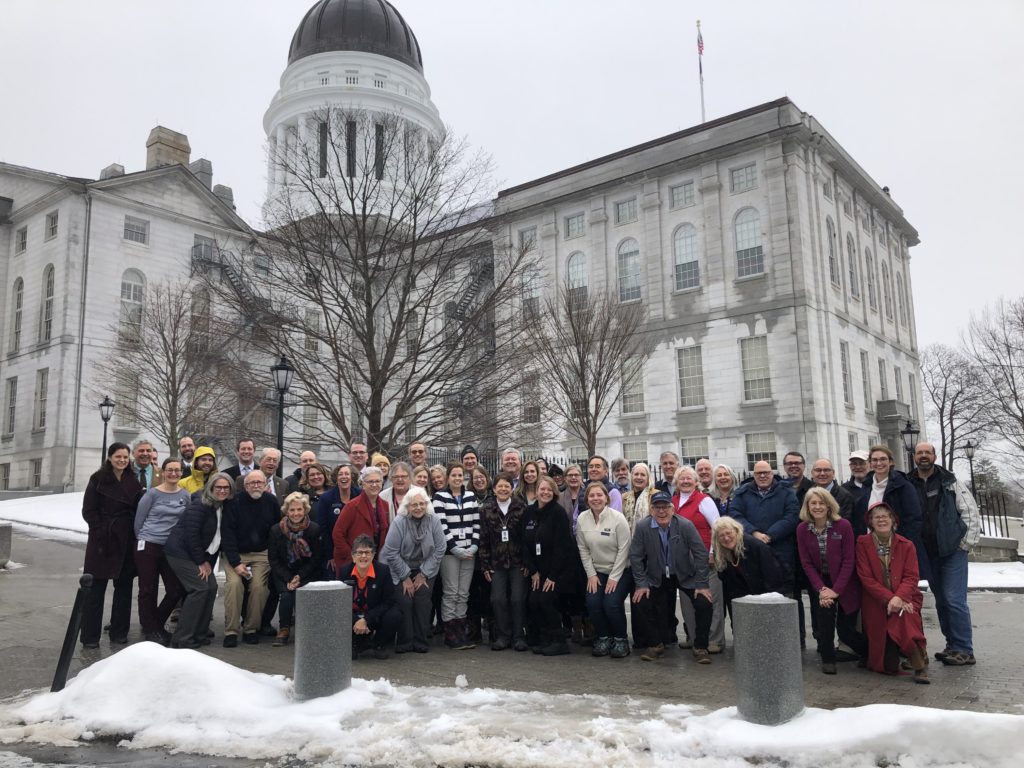 Program participants learn about the fundamentals of the Maine economy and the factors that drive long-term growth. Participants learn how their public policy decisions affect the growth and investment strategies of Maine's for-profit businesses and organizations. They learn this through interacting directly with business, non-profit, education and community leaders throughout Maine.
Policy Leaders Academy is a program of the Maine Development Foundation, with strong financial and personnel support from several prominent Maine foundations and organizations committed to a prosperous and thriving state.
2020-2021 Policy Leaders Academy Programming
Maine Development Foundation is pleased to offer the following virtual learning opportunities for all members of Maine Legislature. All forums are for legislators only and free of charge. Please RSVP to Julie Beane at jbeane@mdf.org.

All sessions are held via Zoom from 8-9:30am.
January / February 2021 Policy Leaders Academy Events
Building Budget Consensus in Challenging Times – Presentations and Discussion
A three-part presentation on the Maine State Budget. Part one provides an overview of the just updated Maine State Budget Primer, including new analysis of historical spending in Maine during the two most recent nationwide recessions. Part two explores what it takes to pass the state budget and what legislators should know about the budget process through an across-the-aisle conversation with veteran lawmakers. And part three features a discussion with two Maine governors who led the state during two historic recessions and budget crises.
Presenters: Catherine Reilly deLutio, former Maine State Economist
Panel Discussion Moderator: Jim Clair, CEO of CSS Health and Former Legislative Staffer
Presenters: Rep. Sawin Millett (R), Rep. John Martin (D), Rep. Peggy Rotundo (D)
Maine State Budget Primer 2021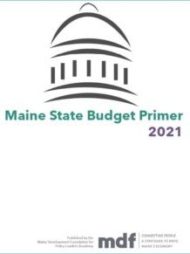 Maine's Future Economy – Three Sessions
The Governor's Economic Recovery Committee has developed specific policy recommendations to stabilize the state's economy and lay the foundation for future economic growth. Based on the framework of the state's 10-year economic plan, the recommendations focus on investments in three areas: Talent, Infrastructure and Innovation. Using the ERC's recommendations as a starting point, MDF will offer presentations and discussions on each topic designed to engage participants in a discussion about the challenges and opportunities ahead and what policy makers should know about the thinking and initiatives in these three key areas.
Economic Recovery Session 1 – Focus on Talent
Friday, January 22, 2021, 8:00 – 9:30 a.m.
As Maine's population continues to age, there's a premium on every working-age citizen contributing to the State's economy. Ambitious goals have been set to add 75,000 people to the workforce over the next 10 years, and for 60% of Mainers to hold education and workforce credentials of value by 2025. This session will focus on talent development across Maine, examining K-12 education, postsecondary education, and on-the-job training. Panelists will discuss in-demand skills, jobs, and multiple pathways to training and employment for Mainers of all ages, skill levels, and backgrounds.

Presenters:
Jason Judd (moderator), Executive Director, Educate Maine
Rebecca Wyke, President, University of Maine Augusta
James Herbert, President, University of New England
Catharine MacLaren, Vice President of Talent and Diversity, Northern Light Health
Mike Ballesteros, Director of Organizational Development, Puritan Medical Products
Dan Lesko, 2019 Graduate of University of Maine, Current CTO at KinoTek, Inc.
Celena Zacchai, UMA Rockland student and 2020 Maine Policy Scholar
Eliza Kenigsberg, Career Coordinator, Aspire Gorham, Gorham High School
Ian Yaffe, Executive Director, Mano en Mano
Economic Recovery Session 2 – Focus on Infrastructure
Friday, January 29, 2021, 8:00 – 9:30 a.m.
Economic recovery doesn't occur in a vacuum – it is helped or hindered by available infrastructure. This session will look at Maine's current infrastructure (healthcare, childcare, schools, housing, transportation, broadband, etc.) and explore which players (the private sector, public institutions, government, etc.) and what strategies can best support a sustained economic recovery.
Moderator: Susan Corbett, National Digital Equity Center
Presenters: Kate Homer, The Jackson Laboratory; Larry Shaw, MMG Insurance; Dr. James Jarvis, Northern Light Health.
Economic Recovery Session 3 – Focus on Innovation
Friday, February 5, 2021, 8:00 – 9:30 a.m.
Maine has a strong core of assets that support innovation and entrepreneurship. This session is designed to explain and explore that ecosystem, and to hear directly from experts and entrepreneurs about what's working and what more can be done to promote sustainable economic growth and development. Topics will include the importance of collaboration, investment in Research & Development, the role of programs such as the Maine Seed Capital Tax Credit, and promoting exports.
Moderator: Katie Shorey, Live + Work in Maine
Presenters: Justin Hafner, CEO & Co-Founder, KinoTek Inc.; Briana Warner, CEO, Atlantic Sea Farms; Donna Cassese, Government Relations Consultant, Sappi North America; Betsy Biemann, CEO, Coastal Enterprises, Inc.; Jayne Crosby Giles, Consultant, Four Directions Development Corporation
---
These are forums that were held in December 2020:
What I Wish I'd Known as a First-Term Legislator – Panel Discussion
Wednesday, December 9, 8:00 – 9:30 a.m.
An enlightening panel discussion where veteran legislators shared insights about their legislative experience and what they wish they had known as first-term legislators.
Moderator: Sen. Roger Katz
Panelists: Sen. Michael Thibodeau, Rep. Victoria Kornfield, Sen. Joyce Maker
The Maine Economy I – Fundamentals – Presentations and Discussion
Wednesday, December 16, 8:00 – 10:00 a.m.
A two-part workshop primer on the Maine Economy in 2020, which started with an up-to-the-minute overview by State Economist Amanda Rector, who has been tracking the pandemic-induced recession and its unique impacts across the state. Participants also learned about MDF's 2020 Measures of Growth report, which offers a non-partisan, data-based snapshot of where Maine sits relative to other states and the U.S. as a whole.
Presenters: Amanda Rector, Maine State Economist; Yellow Light Breen, MDF
The Maine Economy II – The Road to Recovery – Presentation and Discussion
Friday, December 18, 8:00 – 9:30 a.m.
Co-chairs Laurie Lachance, President of Thomas College and Josh Broder, President of Tilson Technology of the Governor's Economic Recovery Committee (ERC) and ERC Committee Member Tae Chong from Catholic Charities Maine presented the ERC's final report and led a discussion of its recommendations for workforce, innovation and entrepreneurship, supporting infrastructure, and an equitable economy.
Presenters: Laurie Lachance and Josh Broder, Co-chairs of the Governor's Economic Recovery Committee, and Tae Chong, ERC Member
Policy Leaders Academy Partners
Policy Leaders Academy is a program of Maine Development Foundation, with strong financial and personnel support from several prominent Maine foundations and organizations committed to a prosperous and thriving state. The generous support of these organizations allows MDF to leverage expertise from across Maine to provide legislators with rich learning opportunities at no cost to individual legislators.
PLA funding partners:



Additional planning partners:

"The 2019 3-day bus trip proved that as Mainers we can create so much when given resources and inspiration. I'm grateful for the chance to have made meaningful connections with so many hardworking, visionary people – not just the leaders of our tours and talks, but also my fellow Legislators, hailing from all parties and parts of our state, joking, chatting, and eating lunch alongside me on the bus."

State Representative Vicki Doudera (D-Rockport)
---