Alumni Service Projects
Join Us!
MDF works with alumni to identify a variety of volunteer, mentoring and community support projects for alumni to participate in individually, in groups and even as a full 1800-strong network.
Have a great project our alums could participate in or launch? Contact Kathy Shannon with ideas or to get involved in projects already underway.
2019-2020 Leadership Alumni Day of Service
We are excited to partner with Junior Achievement of Maine (JA) to offer the inaugural MDF Leadership Alumni Day of Service project. Opportunities will be available between October and June for alums to volunteer for a day individually or in teams of two at a school near them. Alums will teach a JA prepared class with a focus on financial and economic preparedness to K-12 students.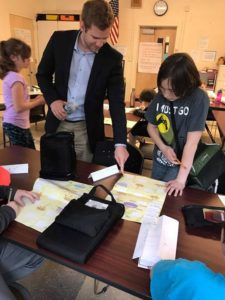 Junior Achievement inspires and prepares students for strong financial futures through their experiential, hands-on programs that focuses on financial literacy skills, workforce readiness, and entrepreneurship. The beauty of JA is the programs are delivered by community volunteers who share their personal stories and empower students get ready for their future.
How it works:
Complete the volunteer form below, indicate what area of the state interests you and either FAX it to —- OR scan the completed form and email it to Jill Jameson, JA's Director of Operations jjamison@jamaine.org
If there is a specific school you would like to work with, please indicate the school on the form and JA will do their best to accommodate
As dates are set with schools this fall, JA will work to coordinate with Alum volunteers and will provide training once you have been matched with an opportunity
Learn more about Junior Achievement of Maine
Visit the Junior Achievement of Maine website.
Check out the Junior Achievement YouTube Channel with volunteer and educator testimonials.
View the list of JA programs. Please note teachers dictate the program, so once a date is set with a school and a program is chosen, JA will coordinate appropriate training for each Alum team.
Computers for Rural Libraries – Information Technology Exchange
The Information Technology Exchange program, led by Leadership Maine Alum Jodi Martin (Psi Class) needs your donations of cash and/or corporate surplus/unwanted personal computers/software (PCs only) to help rural libraries provide critical digital access to individuals and families to achieve their employment and educational goals.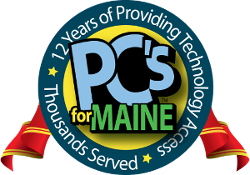 38% of Maine's communities do not have high speed Internet access or personal computer access. Maine's rural libraries are outposts of high speed Internet and public computer access in communities where high speed Internet is not available.
A donation of $250 can ensure one of these rural libraries – and the community they serve – are equipped with an up-to-date computer and software, as well as the necessary warranties and tech support. A gift of $1,000 provides 4 library computers that will be used by hundreds of people in that area. These computers are typically in service for at least 4 years before needing replacement.
For more information, visit http://www.itec3.org/
To contribute cash or donate computers/software contact Jodi Martin: jmartin@itec3.org