2019 Measures of Growth Report
MDF is pleased to release the 2019 Measures of Growth Report. This annual report is produced in conjunction with the Maine Economic Growth Council (MEGC) and informs discussion on a variety of indicators that speak to Maine's economic performance and the quality of life of Maine people.
In total, the 2019 Measures of Growth Report tracks 27 indicators that collectively support the idea that Maine's quality of life depends upon a vibrant and sustainable economy, thriving communities, and a healthy environment. Past performance and current conditions inform the establishment of future benchmarks for each indicator that are aspirational, potentially attainable and against which we can measure our collective progress.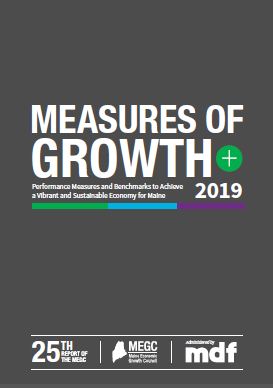 It is intended to serve as a guide to policymakers at all levels, a tool to help them focus their efforts, and a way to understand the connections between and among the major issues affecting the economy and well-being of Maine people. While reliable data is frequently only available at the state level, we must be mindful of the disparities, at times significant, which exist within our state.
Each year, MEGC designates certain data as "Gold Star" indicators, where Maine is seeing exceptional performance we can capitalize on, and others as "Red Flag" indicators, where Maine faces consistent challenges that we need to address.
In 2019, MEGC designated the following Gold Stars:
Safety: Maine's crime rate is 40% below the national average and among the lowest nationwide
Air Quality: In 2018, Maine experienced only 3 days rated as unhealthy for sensitive groups, the lowest figure to date
Water Quality: In 2016 more than 90% of Maine waterways received ratings of "1" or "2" (good) – well above the national average
Sustainable Forest Lands: Maine is now growing more forest than it is harvesting, and the growth to harvest ratio continues to increase annually
In 2019, MEGC designated the following Red Flags:

Research and Development Expenditures: Maine's spending on R&D continues to decrease and in 2016 represented only 0.8% of GDP, which ranks us 45th out of all 50 states
Fourth Grade Reading Scores: 36% of 4th Graders in Maine are proficient in reading, equal to the national average but trailing the New England average by 7 points
Eighth Grade Math Scores: 36% of 8th Graders in Maine are proficient in math, which is 2 points above the national average but trails the New England average by 3 percentage points
Working Age Population: Maine's working-age population (18-64) continues to fall and is now below the national average
Cost of Health Care: Mainers personal spending on health care remains at 17.8% of all personal expenditures, which is higher than the national average and the New England average
Detailed Information on all 27 indicators can be found in the Full Report.
A comprehensive synopsis of the Report can be found in the Executive Summary.