2023 MDC Annual Awards Celebration
A Celebration of 2022
Date: Wednesday, April 26, 2023
Location: Curtis Memorial Library, Brunswick, ME
REGISTER NOW »
Come celebrate the achievements and accomplishments of our downtown communities in 2022. Awards will be given for the Downtown Hero, Project, and Innovation of the year. This year's event will feature guest speakers, Sarah Hansen (Executive Director, Greater Portland Landmarks) and Cary Tyson (Executive Director, Portland Downtown), as well as an optional tour post-ceremony of the Lemont Block.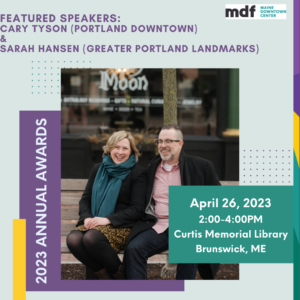 Meet the speakers:
Sarah Hansen joined Greater Portland Landmarks as the Executive Director in June 2019. Prior to her work with Landmarks Sarah served as Director of Preservation Services at Maine Preservation for two years. Sarah currently serves on the Board of the National Preservation Partners Network, Maine's Main Street Advisory Council, the Maine Alliance for Smart Growth, and as a founding member of the Cultural Alliance of Maine. Locally, Sarah was appointed to the Village Review Overlay Committee for the City of Westbrook and serves on the Economic Vitality Committee for Discover Downtown Westbrook. Sarah is a proud Maine native and is enjoying immersing her southern husband Cary Tyson in the wicked awesome culture of the state.
Cary Tyson serves as the Executive Director of Portland Downtown, a 501c4 organization that works to stimulate a thriving, vibrant and sustainable downtown community. Prior to moving to Maine, he worked across Arkansas in the fields of downtown revitalization and historic preservation and in Seattle focusing on microenterprise. Before his time at Portland Downtown he worked for 2.5 years at the Kennebec Valley Council of Governments serving as the Director of Community & Economic Development.
2023 Award Winners:
Project of the Year: Manifesting Main – Asset Mapping Downtown Ellsworth 
Recognizing that Ellsworth's comprehensive plan was last updated in 2014 and the downtown had never completed an asset mapping project, the Heart of Ellsworth board set a goal to engage a broad spectrum of community members and collectively set a strategic direction for the Heart of Ellsworth, the City of Ellsworth, businesses, and the downtown commercial district as a whole.  
After a year of collaborative work with HUB Collective, the City of Ellsworth, Heart of Ellsworth Staff and Board, and financial support from Franklin Savings Bank and Maine Community Foundation, the published a completed report entitled, "Manifesting Main – Asset Mapping downtown Ellsworth" is available for download on HoE's website. Copies are available at the Ellsworth Public Library, City Hall, and were presented to elected officials at the December 2022 council meeting. 
Downtown Hero: Teresa Valliere
Friends of Woodfords Corner has grown quickly and Teresa has been behind nearly everything the organization has accomplished. What started as a Facebook group in 2015, became a community volunteer organization because Teresa organized a railroad cleanup. She drew in dedicated people who helped the group file as a 501(c)(3) just two years later, and put together a board of directors with skills that mapped onto the main street model so the organization could become a Main Street Affiliate. Though Teresa has no background in economic development, historic preservation, or community organizing, nor is she trained as an urban planner, she's used her background in the food and hospitality industry and her training and experience as a clinical social worker to build relationships and organize events that helped set in motion the rebuilding of Woodfords Corner. In 2022 Friends of Woodfords Corner has reached a particularly noteworthy milestone: leasing an office in a newly revitalized landmark building in the corner, and raising enough money to hire a paid staff person who will finally relieve Teresa of the burdens of managing and performing the myriad administrative tasks that keep the organization moving forward.