ICL Cadillac Class Graduation Luncheon
Date: Friday, April 08, 2022
Location: The Woodlands Club, 39 Woods Road, Falmouth, Maine
REGISTER NOW »
11:30am: Registration
11:45–12:15pm: Welcome & Lunch– Jan Kearce, ICL Program Director
12:15 – 2:00pm: Program & Graduation
Keynote Address: Shenna Bellows, Maine Secretary of State
Guest Speaker: Lucy Van Hook, Director of Community Development at Our Katahdin
Cadillac Class Graduation Ceremony
Gather with classmates, colleagues, friends, and family for this year's ICL Cadillac Class graduation. Enjoy making new connections and re-kindling old ones as we celebrate leadership in Maine. We have an impressive lineup of speakers, including Shenna Bellows (Xi Class), Maine Secretary of State; Lucy Van Hook (Mt. Abram Class), Community Development Director at Our Katahdin; and other special guests. The event will be inside and masking is not required.
Help us congratulate the 22 thoughtful, cross-sector leaders of Cadillac Class and the contributions they will continue to make to Maine's economy and communities.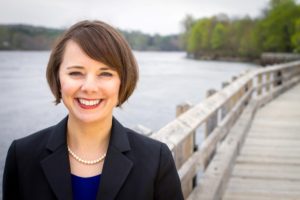 Shenna Bellows is Maine's 50th – and first female – Secretary of State. She served two terms in the Maine Senate from 2016-2020, representing 11 towns in southern Kennebec County. In the Maine Senate, she served as Senate Chair of the Labor and Housing Committee and served on the Judiciary Committee. She was a 2020 presidential elector in the Electoral College. Secretary Bellows most recently led the Holocaust and Human Rights Center of Maine as executive director from 2018 to 2020; ran a non-profit consulting business; and was the Democratic nominee for United States Senate in Maine. From 2005 to 2013, Secretary Bellows was executive director of the American Civil Liberties Union of Maine and worked on several important equality initiatives. She was an original member of the Committee for Ranked Choice Voting.

Secretary Bellows grew up in Hancock and is a graduate of Ellsworth High School. She holds a B.A. in International Politics and Economics from Middlebury College. She volunteered with the Peace Corps in Panama and AmeriCorps VISTA in Nashville, Tennessee. Secretary Bellows lives with her husband, Brandon, in Manchester, where she serves on the Manchester Conservation Commission.
Lucy is an alumna of the 2019-2020 Mt. Abram Class of ICL and the first FOR/Maine community member to participate in the program. Lucy has over a decade of experience engaging community members in innovative approaches to addressing local problems. She has worked with inland and coastal communities on policy, project and system solutions. Lucy has also worked with Maine foundations on community-based solutions for energy efficiency and improving community resilience. Lucy lives in Millinocket with her husband, two young children, and black fuzzy pup.
Thank You to Our Sponsors: