Innovating for Growth – Defining the Big Opportunities
Spotlight on Natural Resources - Food (Agriculture & Aquaculture) & Forest Products.
Date: Friday, May 14, 2021
REGISTER NOW »

What are the forces that will enable us to stabilize, diversify, and grow Maine's agriculture, aquaculture, forest, and other natural resource-based economies & the communities that depend on them? Who are the innovators making this happen?

Participants will hear from Sarah Simon, Maine Farmland Trust; Greg Day, Vertical Harvest; Daniel Stevenson, City of Westbrook; Shane O'Neill, UMaine School of Forestry; Greg Cabral, Original Mass Timber; Jonathan Labaree, Gulf of Maine Research Institute; and Jen Levin, Gulf of Maine Sashimi.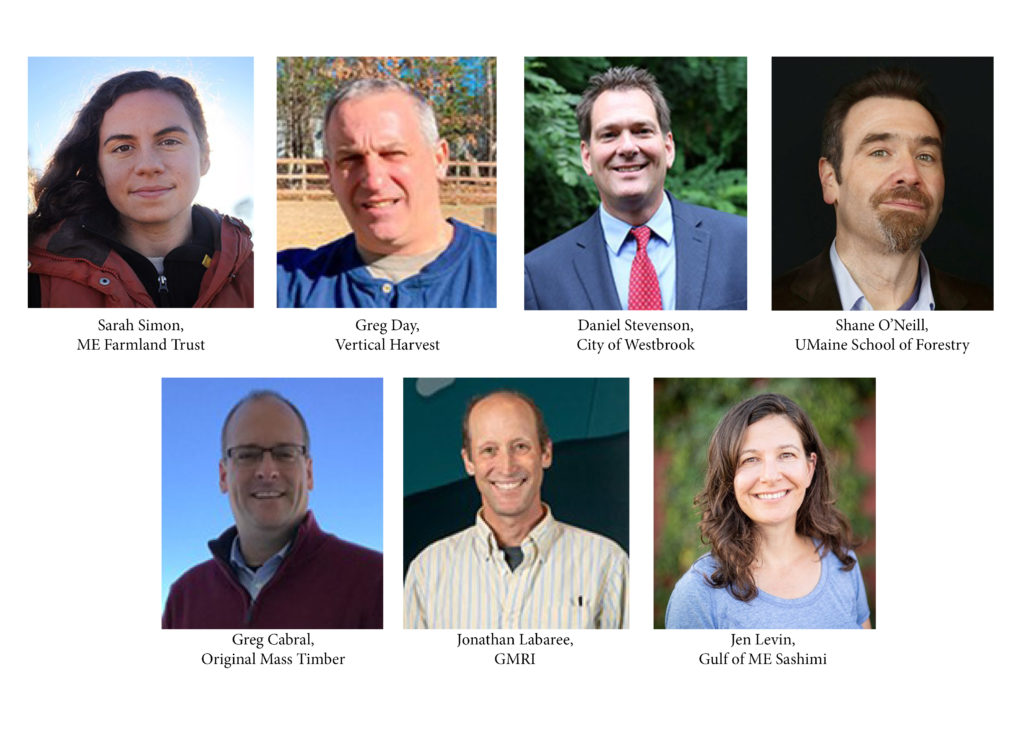 Sarah Simon
Sarah works for Maine Farmland Trust as the Farm Viability and Farmland Access Director. She manages programs that help farmers access land, run profitable businesses and restore and protect the health of their soils. Before beginning in this role last May, she was the director of a community farm and food access organization in New York's Hudson Valley.
Greg Day
Greg is a management professional in the real estate sector and privatization of public assets, applying more than 30 years of experience.   He has executed a multi-billion transaction volume throughout his career covering a national footprint.   Greg recently co-founded TDB, LLC with his four sons to focus on developing urban farms, housing and municipal infrastructure in a partnership with Vertical Harvest L3C.
Daniel Stevenson
Westbrook native Daniel Stevenson has been the City of Westbrook's Economic Development Director since 2017. Daniel has worked in the field of economic and community development for more than two decades, both at the state and municipal levels and has extensive knowledge and expertise in public finance and public-private partnerships. As a Maine economic development practitioner, Daniel is intimately familiar with economic and community issues affecting municipalities throughout the State of Maine. Daniel has a long track record of new development and redevelopment accomplishments, coupled with a deep knowledge and understanding of state-level programs and available resources to spur business investment. As Westbrook's Economic Development Director, Stevenson has cultivated strong working relationships with partnering organizations that share Stevenson's desire to promote sustainable business development in and around Westbrook. Under his leadership, the City is investing millions of dollars in strategic economic development projects and implementing Maine's first modern Business Retention & Expansion (BRE) program.
Shane O'Neill
Shane serves as the Forest Industry Business Development Manager, a cross-departmental position focused on coordinating and supporting collaboration across the University of Maine System resources with forest-focused businesses, communities and municipalities in Maine to promote growth and diversification across the state's circular forest economy and increase rural economic resilience. Prior to this role at UMaine, Shane was involved in industrial research (through Green Bay Decking and Diversiplast), academic research and development (with UMaine's Advanced Structures and Composites Center) and managing two separate technical consulting services business (Compositology LLC and Entwood LLC). Shane completed a B.Sc. in Wood Science from Michigan Technological University, and M.Sc. in Forest Resources and Graduate Certificate in Advanced Engineered Wood Composites from the University of Maine. Currently, Shane is a member of the Maine Mass Timber Commercialization Center, serves on several committees with the Forest Opportunity Roadmap/Maine (FOR/Maine) collaboration, the Finland-Maine Forest Collaboration and the Maine Structural Round Timber Advisory Committee.
Greg Cabral
Greg is the Director of Market Development for Original Mass Timber Maine, a grant-funded market development program administered by the Town of Ashland, ME to build marketes for Structural Round Timber (SRT) derived from Maine's northern forests. Greg graduated from the University of MA with degrees in Forestry and Building Materials and Wood Technology. He has worked as a Forester for the USDA, the State of CO and MA, and as a Consulting Forester for a private company in NH. His experience also includes work as a Market Development Manager for Weyerhaeuser and as a Business Development Representative for Andersen Windows. 
Jonathan Labaree 
Jonathan oversees GMRI's Community Department, which supports fishing communities around the Gulf of Maine as they adapt to environmental, economic, and regulatory changes. He has worked extensively with the region's groundfish fishery during its transition to quota-based sector management. Jonathan came to GMRI in 2009 from Maine Coast Heritage Trust, a state-wide land conservation organization, where he held several positions conserving land and raising funds. Prior to MCHT, he worked for the Quebec-Labrador Foundation's Atlantic Center for the Environment, running community-level conservation projects throughout New England aimed at increasing public involvement in natural resource management. He also ran a small-grants program for marine research projects in southern New England. Jonathan holds an undergraduate degree in history from Williams College and a masters degree in environmental management from Yale University's School for the Environment.
Jen Levin
Jen believes that the best businesses are also good for people and the environment. She has dedicated her career to sustainable use of renewable resources, including working on issues related to hunting, trapping, and forestry. Most recently, Jen managed the Sustainable Seafood Program at the Gulf of Maine Research Institute where she developed a passion for the seafood industry in New England and uncovered the untapped potential for high-end seafood from this region. Jen hails from Wisconsin where she earned her B.S. in Wildlife Ecology, and she holds an MBA from the University of Southern Maine.
COVID 19 Considerations:
~ MDF will use the Governor's guidelines to ensure the safe delivery of our programs. This includes masks, distancing, testing, vaccinations, date changes, virtual sessions if necessary, cancellations, and other strategies as guidance related to COVID19 is adjusted to match pandemic indicators.
~ If you sign up and pay for a session, series or cohort and must withdraw because of COVID19's impact on you, your family, or your business, you can choose to pay it forward to future programs or request a pro-rated refund for missed programming.
Sponsors: