Leadership Bicentennial Blog: Maulian Dana, Penobscot Nation Tribal Ambassador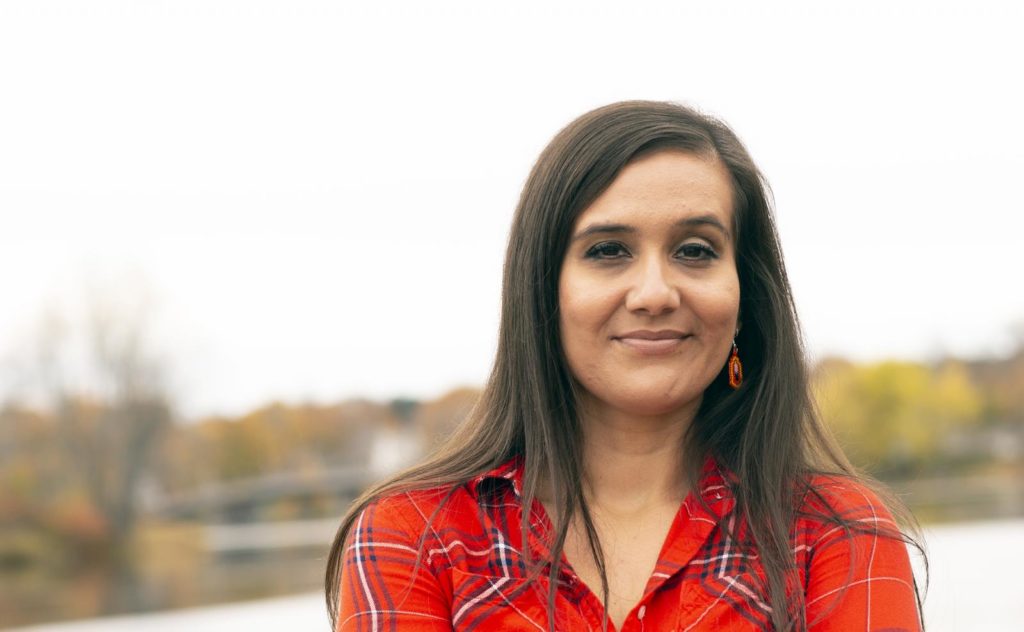 In celebration of Maine's Bicentennial and 200 years of leadership that paved the way to make Maine "the way life should be," members from MDF's Leadership Maine Baskahegan Class interviewed leaders from around the state. With diverse backgrounds, industries and geographies, they each share deep interest and commitment to the state of Maine and its people. This is the story of Maulian Dana, Penobscot Nation Tribal Ambassador, and her leadership journey. Maulian was interviewed by Bev Uhlenhake.
How she got here from there.
Maulian Dana's family has been involved with tribal politics for many generations, and she's been watching the action from the front row since she was a child. Her first strong involvement occurred as the State of Maine was considering the removal of the term "squaw" from all public nomenclature when Maulian was just 15. It was her first experience testifying to the legislature, and it gave her faith in the process and showed her that the process could work. The experience led her to take on Indian mascots next, and her advocacy hasn't stopped since. Maulian felt a radical need to change things and a desire to understand the process; she merged the two into a degree in political science.
Maulian assisted her father in running for tribal chief, and then she ran for tribal council herself. Even though she didn't win her first two attempts, she didn't give up and won in 2016. In 2017, the Penobscot Tribe developed a position of Tribal Ambassador to fill the gap left when the tribes pulled themselves out of the Maine State Legislature in 2015. She was appointed to the position shortly thereafter.
Her advice for young leaders in Maine and outlook for the future.
"You can't lead the people if you don't love the people. You can't save the people if you don't serve the people." ― Cornel West
Maulian's aunt Rebecca Sockbesin told Maulian once that she is so effective because her love for her people shows in every step, and Maulian believes that love for those around her is the most important aspect of leadership. For her, it's easy to love the people she serves. "They are part of the fabric that has allowed us to survive for so long. Indigenous people aren't even supposed to be here. It's like a big family," she noted.
Balance is also key to leadership. "[It] is equal parts energy and commitment… If you are going to sit at home and wish it would happen, it's not going to do any good," she said, explaining that leadership is doing things, even when they are hard.
Leadership must also be future-focused, noting that she knows her own children are an impetus for her passion to make the world a better place.
Her inspiration from the past.
Maine's bicentennial is complicated for Maine's tribal people. Maulian noted the desire to "commemorate, not necessarily celebrate" the anniversary. To that end, she is attempting to inject into each of the events the many layers of Maine's history. In particular, there is recognition that her tribe is still on its land of Indian Island, a fate that is dissimilar to many tribes across the United States, but that does not mean the history of tribes in Maine and the relationship between them and the rest of the state has not been contentious.
Maulian draws inspiration from her aunt, Donna Loring, and says she provides inspiration a positive example in how to live and work in this realm. An unassuming physical presence, Loring started from humble beginnings, and then served in the Vietnam War and as a chief of police on Indian Island. Loring served as the tribal representative to the Maine State Legislature for twelve years. During that time, she successfully proposed and got passed a law that requires education about Maine's tribes in the public schools, even though the tribal representatives didn't have a vote in the legislature. Loring is also a proud lesbian, so she has fought discrimination on many levels. "To think about all the rooms she's been in, with all of the decks stacked against her," says Maulian, noting that makes her aunt's accomplishments even more impressive. Loring currently serves as Tribal Liaison for Governor Mills, continuing to work through the sometimes combative relationships between the State and the tribes well into what would be retirement age for others.