My Green Downtown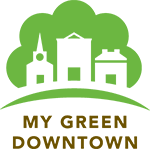 The My Green Downtowns program sought to enable communities to strengthen and celebrate the connection between natural and built environments. The program offered ideas, training and tools to make the most of existing buildings and infrastructure in revitalization efforts with the understanding that doing so helps preserve historic places, conserves natural resources and green spaces and is a sound community investment.
The program followed four core principals:
Quality Design
Preservation of historic buildings, compact infill developments, street trees, parks, and integrated water management make downtowns desirable and vibrant while conserving natural resources and improving air and water quality
Social Interaction
Accessible mixed-use buildings and spaces combined with multiple transit options make it possible for a wide range of people to live, work, shop, learn, and recreate downtown.
Energy Efficiency
Maximizing embodied energy within existing buildings and utilizing best practices in energy efficiency to reduce carbon footprints.
Healthy Communities
Walking trails, bike paths, sidewalks, pocket parks and access to healthy local foods encourage active lifestyles and wellness while supporting the local economy.
As part of the program, the Sewall Foundation awarded $15,000 in Green & Healthy Maine Streets grants to five downtowns and projects:
Biddeford: 7-Minute Work Out Station in a public park
Augusta: Kennebec Trail Connection, directional & distance signage, brochure, places to meet
Skowhegan: Rehab 2nd floor for physical activity and learning while reducing carbon footprint
Waterville: Spring Street Convergence: Using Green Space and Public Art to link The Hathaway Center. South End Neighborhood and Downtown
Belfast: Connection of three distinct sections of downtown